The area beneath the stage can be full of surprises….
Under the London Coliseum stage I found a staff canteen and the base of a huge turntable that once brought a horse race to life on the stage itself. Under the Lyttelton stage at the National Theatre I crept through a dark narrow corridor to discover Sir Ian McKellan's Richard III armour, a couple of helmets from War Horse and access to all sorts of exciting stage machinery. In the playhouses of Shakespeare's day, all manner of goblins, devils and demons would be concealed under that big wooden stage to make a dramatic entrance from the trapdoor.
Here is a selection of under stage areas I've have the good fortune to explore: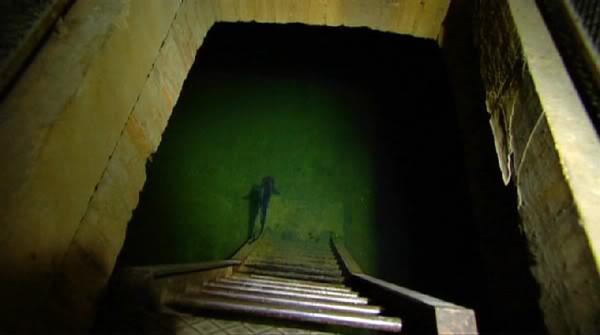 However for sheer inspiration, it's difficult to compete with the impressive underground lake that lies beneath the Palais Garnier Opera House in Paris. The Phantom of the Opera may be a beautiful myth, but his lake under the theatre is very much for real!